Year 11 Agriculture Excursion
Thursday 16 April, 2020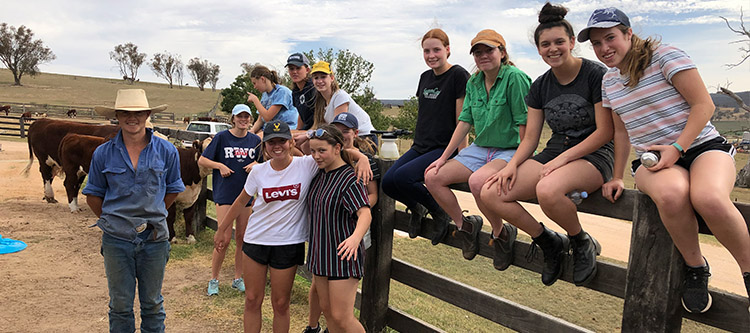 During Term 1, our Year 11 Agriculture class, along with teachers Mr Jackson and Mrs Attley, journeyed out to the central west town of Bathurst to undertake an intensive three-day Farm Case Study as part of their preliminary agriculture course. The group stayed at Newhaven Park House, approximately 15 kilometres south of Bathurst and originally a well-known Murray Grey stud. From there, they visited various properties to investigate a variety of cropping and livestock enterprises.
The girls had an exciting and informative time as they visited a Poll Hereford Stud where the girls got to draft some calves from the herd of cows, Carcoar livestock exchange, where they witnessed cattle being auctioned, weighed and scanned before being moved around the enclosure by horseback riders and helped out with the shearing of some Merino wethers before baling and branding the wool bales.
Learning about regenerative farming on a 2,000-hectare farm that operates sustainably and did not have to supplementary feed during the drought was an eye-opener as well as witnessing the destruction and damage caused by the January bushfires around Bilpin on the journey up through the mountains.